Slide
Black History Month Programming
From Black Health & Wellness to Black Resistance
6 p.m., February 2  |  Registration required
The Black community has existed in a dual plane of celebrating its cultural richness while simultaneously pushing back against injustice and oppression. The Freedom Center has gathered a panel of thought leaders and scholars to discuss the realities of wellness within Black communities and the continued legacy of resistance from the era of the Underground Railroad to today. In doing so, they transition from 2022's Black History Month theme of Black Health & Wellness to the 2023 Black History Month theme of Black Resistance.
Panelists include:
Dr. Calisha Brooks, psychologist and mental health activist
Dr. Rodney Coates, professor of Critical Race and Ethnic Studies and Global and International Studies at Miami University
Dr. LaGarrett King, associate professor of Social Studies Education at the University of Buffalo
Kymisha Montgomery, community gardens coordinator for the Civic Garden Center
Dr. Marc Watkins, chief medical officer at The Kroger Co.
The evening will start with a light fare reception at 6 p.m., followed by the discussion on Black Health & Wellness at 6:30 p.m. and Black Resistance at 7:30 p.m. The panel is sponsored by The Kroger Co.
Paul Laurence Dunbar: Beyond the Mask film screening
2 p.m., February 5  |  Included with museum admission
Born to former enslaved people in Dayton, Ohio in 1872, Paul Laurence Dunbar became a respected poet and essayist who was widely published for his pieces against Jim Crow laws, lynching and what was commonly called "The Negro Problem." He is perhaps best known for his poems "We Wear the Mask" and "Sympathy," from which comes the title of Maya Angelou's famous autobiography, I Know Why the Caged Bird Sings.
Paul Laurence Dunbar: Beyond the Mask is a documentary on the life and legacy of Dunbar, the first African American poet and writer to gain international fame, and the African American experience at the turn of the 20th century. Following the film, the film's writer and director Frederick Lewis, professor in the School of Media Arts & Studies at Ohio University, will lead a discussion and Q&A.
HBCU Youth-Led Roundtable
3 p.m., February 11  |  Registration required
The Freedom Center is partnering with the Walnut Hills branch of the Cincinnati Hamilton County Public Library to host a roundtable discussion with alumni and students from Historically Black Colleges and Universities (HBCU). The group will discuss the benefits, outcomes and challenges of attending an HBCU, with particular focus on the ways these organizations provide space for students to serve and engage with their communities beyond the classroom.
"Mr. Rickey Calls a Meeting"
Varies, February 17-19  |  Ticket required
Presented by the Cincinnati Black Theatre Company, "Mr. Rickey Calls a Meeting" imagines a meeting between Jackie Robinson, Joe Louis, Bill "Bojangles" Robinson and Brooklyn Dodgers owner Branch Rickey in 1947. Together, they discuss a strategy for dropping a baseball bombshell. A play by Ed Schmidt, author of Breaking the Color Barrier with Jackie Robinson, "Mr. Rickey Calls a Meeting" will premiere at the National Underground Railroad Freedom Center for a three-day run from Friday, February 17 through Sunday, February 19.
Tickets are $20 and available through the Cincinnati Black Theatre Company at cincinnatiblacktheatre.org/mr-ricky-calls-a-meeting.
Fifth Third Community Day
10 a.m. to 5 p.m., February 19  |  Free admission
Museums are vital to the collective heritage of our community and the Freedom Center, through the support of the Fifth Third Foundation, is providing free admission on Sunday, February 19. The day, part of the Freedom Center's Fifth Third Community Days, includes free programming, public art activities and more.
Galveston & John Rufus Gibson: A Story About Freedom and Opportunity
2 p.m., February 19  |  Free admission
Following the announcement in Galveston, Texas on June 19, 1865, that the Civil War had ended and all enslaved people were free, the city became a hub for Black communities in Texas, drawing people from even outside the state to settle there. John Rufus Gibson himself moved from Ohio to Galveston in 1882. A graduate of Wilberforce University in Ohio – the nation's oldest private historically Black university – Gibson helped establish and served as principal of Galveston's Central High School, the first public high school for Black students west of the Mississippi River.
Gibson's story comes to life through Sam Collins III, co-chair of the Juneteenth Legacy Project Committee in Galveston and an advisor with the National Trust for Historic Preservation. Through his work, Collins is expanding the narrative and telling the truth about American history by highlighting forgotten Black leaders, such as Gibson, who shaped the future of Black youth for over 50 years as principal of the Central High School.
Open to the public as part of the Fifth Third Community Days.
New Orleans Jazz Concern featuring Ashlin Parker
7:30 p.m., March 3  |  Ticket required
The Freedom Center welcomes internationally-acclaimed and Grammy-winning jazz trumpeter Ashlin Parker to fill the Harriet Tubman Theater with the boisterous notes of New Orleans's opulent Mardi Gras. Joined by the University of Cincinnati's College Conservatory of Music's jazz orchestra, under the direction of Dr. Scott Belck, the concert is a celebration of Black culture and music with all the revelry and flair of Mardi Gras.
The New Orleans Jazz Concert with Ashlin Parker is Friday, March 3 at 7:30 p.m. with a post-concert reception. Tickets are $25 for public and $20 for Freedom Center Members and will be available for purchase February 1.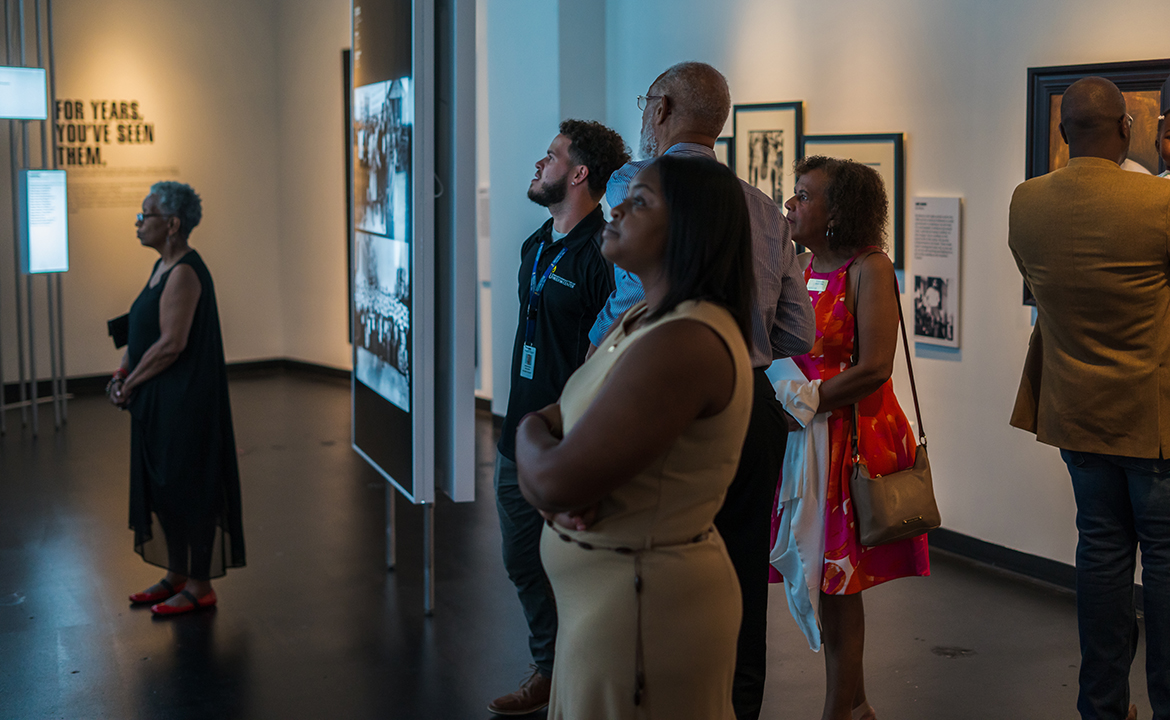 Special Exhibitions
The National Underground Railroad Freedom Center hosts a variety of traveling exhibitions throughout the year. See what we're hosting now.